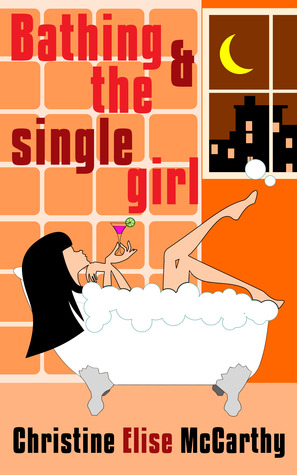 Series: Standalone
Genre: Women's Fiction
Publisher: Multum In Parvo
Publication Date: Feb 2014
Format: ebook
Pages: 372
Source: Author
Rating: 4 stars



BATHING & THE SINGLE GIRL is the smutty, mercilessly irreverent and laugh-out-loud funny debut novel by actress Christine Elise McCarthy. Inspired by her one-woman short film of the same name, it's the kind of novel Jonathan Ames might write if he'd dropped out of college and had been working as an actress in Hollywood for the last 20 years.

The life of an actress in LA isn't all glamour, money, and bedding rock stars. Sometimes it's more about humiliation, red wine hangovers, and the bad decisions they fuel. Ruby Fitzgerald has barely worked in years, not that anyone remembers her for anything but her short stint on a long-canceled but iconic TV show. But that was back when her career prospects seemed on the upswing -- longer ago than Ruby cares to admit, and awkward sex with regrettable partners is doing nothing to take the edge off. Everything once functional in her house is going on strike, but the unemployment checks barely cover the mortgage, and a self-respecting girl needs to be able to pay her bar tab -- so repairs are on hold. One more bubble bath and a few more cocktails. A gal can always get responsible tomorrow.

With everything mounting against her, a cranky and increasingly despairing Ruby will have to find out if her life's larger indignities are the result of bad luck, or a chronically bad attitude. What follows is a walking tour of the hilarious depths you can sink to if you stop exercising your best judgment.


My Review
Oh my gosh, where do I even begin with Bathing and the Single Girl? This is a book that is really hard to review because honestly, I think it's best to experience first-hand. This is not my way of writing a lazy review, but it's true! In fact, I have a friend, Amanda, who appreciates the funny as much as I do. I kept telling Amanda how funny BatSG was, and she was interested, for sure. But, when I began sending her screen caps of the hilarious moments in the story, she immediately bought a copy.
There are a few ways I internally categorize humor. There's SALTS, which means Smiled A Little Then Stopped. Those books have funny moments, but nothing that really stands out. The highest level of funny is Holy Shit, Did Amanda Write This? Obviously, this is the level of funny Bathing and the Single Girl achieved. This book had me highlighting entire pages, texting the funny to my friend, reading the passages to my husband while crying tears of hysterics.
Oooh, I should probably throw out a couple of qualifications. One, my idea of funny is different from some. This book could get pretty crude sometimes, and by pretty, I mean a lot. Nothing is safe from the characters' snark, be it age, sex, religion or politics. And speaking of politics, that's my second point. Towards the end, Ruby begins dating someone with very different ideas of politics and religion. There's no mistaking that Ruby thinks he is ridiculous, her friends think he's ridiculous. I happen to share a lot of the Ruby's ideas on politics and religion, so it didn't bother me. But for those
who don't, that could be annoying.
Bathing and the Single Girl is the story of an actress, written by the actress. It reads as part women's fiction and part memoir. I can only imagine that the author drew on her own life experiences to write the story, but it doesn't really matter if she did or she didn't. A lot of the fun was the wondering, imagining who could be the real-life counterparts to the story.
Regardless of my speculation, Bathing and the Single Girl was great. It read as honest, totally unflinching, and remarkably funny. I really enjoyed it and do highly recommend.
Favorite Quotes
"
Fuck Justin Timberlake."
"You love Justin Timberlake."
"Until I found out his mother is--like--my age. It's one level of wrong to have a crush on a teenager with a Jew fro but it is a whole new level of yuck when he could be your son. I don't need Chris Hanson showing up with Perverted Justice while I'm trying to seduce Justin with chocolate chip cookies and sweet tea."
"I'm sorry, baby..."
Oh God, I thought as I curled my fingers around his mini gherkin. I felt like a pedophile. I tried to think of something, anything, to say in response to this apology. Then I realized he had something else to say.
"You probably already noticed, but..."
A suicide pact seemed like the only way out of what was going to be the most uncomfortable situation of our lives.
"Anyway, I'm sorry. But I have really small balls."
I actually did a slow-mo head turn and "Can you believe this shit?" look over my shoulder to a non-existent witness.
"I'm sorry, baby. You probably noticed that I have really small
balls
," he says? Guess what? No! No, I didn't. As a matter of fact, I didn't notice your balls at all.
"Eliza, I'm not sure you have thought this thing through properly. You do realize that, right? That as a lesbian, you don't just walk around having Samantha Ronson lookalikes munch your box. I'm guessing that, at some point, some chick with pubic sideburns is going to expect a reach-around. And by reach-around I mean they are going to expect you to go ears-deep in their ham wallet. Are you ready for that?
About the author
Christine Elise McCarthy has been acting professionally for 25 years and is recognized primarily for her roles as U4EA-popping bad girl, Emily Valentine, on Beverly Hills, 90210, as Harper Tracy on ER, and as Kyle, the gal who killed Chucky in Child's Play 2. She has also appeared in recurring roles on China Beach, In the Heat of the Night, and Tell Me You Love Me. Among her other film roles are Abel Ferrara's Body Snatchers and two films starring Viggo Mortensen: Vanishing Point and Boiling Point.

As a writer, she has written three episodes of Beverly Hills, 90210 as well as characters and storylines for the series, a pilot that was optioned by Aaron Spelling, and comical true-life essays that she performed at the Upright Citizens Brigade and Naked Angels theaters in LA. She maintains an irreverent food porn blog calledwww.DelightfulDeliciousDelovely.com for which she provides recipes, photographs and sometimes shares details of the triumphs and, more frequently, the humiliations of her own life. She has a great passion for photography (www.MyPinUpArt.com) and has shown her pin-up and decaying Americana imagery in the United States & Paris. She has been on the selection committee of Michigan's Waterfront Film Festival since its inception in 1999, she is co-director of the Victoria Texas Independent Film Festival, programs for the Self-Medicated Film Festival and The Lady Filmmakers Film Festival, and consults & judges for many others. Her
directorial debut, Bathing & the Single Girl, was accepted into over 100 film festivals and won 20 awards.

Bathing & the Single Girl, inspired by the short film, is her debut novel.
Website | Twitter | Facebook | GoodReads