Welcome to my stop on the teaser tour for His Highland Spy. I have author Victoria Roberts, sharing today's excerpt and giveaway. Thanks for stopping by!
Series: Highland Spies #1
Genre: Historical Romance
Publisher: Sourcebooks Casa
Publication Date: 9/2/14
GoodReads
This Highland Laird won't bow to the Crown
Laird Ruairi Sutherland refuses to send his only son away to be educated by the English. And he most definitely will not appear in Edinburgh to pay homage to a liege who has no respect for Scotland. So he does what any laird would do—he lies to the king. The last thing Ruairi expects is a beautiful English governess to appear on his doorstep.
But this lady spy might make him...
Lady Ravenna Walsingham is a seasoned spy who is sent to the savage Highlands to uncover a nefarious plot against the Crown. Playing the part of an
English governess—a job easier said than done—she infiltrates the home of Laird Sutherland, a suspected conspirator.
If she doesn't betray him first
Ravenna soon discovers that the only real threat Sutherland poses is to her heart. But will the proud Highland laird ever forgive her when he discovers the woman he loves in an English spy?
Praise for His Highland Spy
"An exciting Highland tale of intrigue, betrayal, and love."
—

Hannah Howell

, New York Times bestselling author of Highland Master
"Roberts' newest features a surprise-laden, quick-paced plot, replete with unconventional and fiercely independent characters. Her lyrical prose grabs readers' attention, and the high level of emotional tension simply adds to the depth of the story. This book begs to be read and reread."
Tour Schedule
Hello readers! I'm glad to be here at The Bookish Babe today, the seventh stop on the My Highland Spy Teaser Tour!
My Highland Spy is the first book in my new Highland Spies' series, and I hope you enjoy the story as much as I enjoyed writing it. We left off yesterday where Ravenna told her siblings she's traveling off to Scotland. Let's see what the laird thinks of her.
Excerpt Seven/Chapter Two:
Sutherland, Scottish Highlands
"Aye, well 'tis too late to turn her away now, Ruairi. What did ye expect? How long did ye think ye'd be able to hold King James at bay? Ye havenae shown your face in Edinburgh and didnae send Torquil—"
Laird Ruairi Sutherland thundered his way to the great hall and didn't even wait for the captain of his guard to finish his comment. Why would he? Fagan clearly knew how Ruairi felt about the Crown. As if he would send his only son to the Lowlands to learn the King's English. King James had no respect for Scotland or its people. And Ruairi would be damned if he'd give in without a fight.
He entered the great hall and walked toward the English lass. Her brown hair was pulled back into a tight, unflattering bun. Her face was austere, her manner haughty. The woman acted as if she graced him with her presence. He didn't like her at all.
"A bheil Gàidhlig agad?" Do you speak Gaelic?
The woman merely stood there mute.
He looked at Fagan and smirked. Turning back toward the woman, Ruairi's eyes darkened. "Thalla dachaigh." Go home.
"Just place the trunk right there. Thank you."
Ruairi's eyes widened in surprise as another woman entered the great hall. Her smooth ivory skin glowed. She had a wealth of red hair in loose tendrils that soft­ened her face, and her lips were full and rounded over even teeth. She was elegant and graceful. He wasn't sure what an English governess was supposed to look like, but she wasn't what he'd expected.
She wore a blue traveling dress with tight sleeves and a low-pointed waist that clung to her slender body. And for the first time since he could remember, he had no words to express the sight before him. The woman was simply beautiful. She lifted her skirts and walked over to him, greeting him with a warm smile.
"I see you've met my driver's wife, Mary. You must be Laird Sutherland. It is a pleasure to make your acquaintance. I am Mistress Denny."
Carried away by his own response, Ruairi failed to notice that the woman waited for him to answer. He also had one hell of a time trying to suppress his admiration. When her cheeks reddened under the heat of his gaze, he cleared his throat and nodded at Fagan.
"'Tis a pleasure to meet ye. I am Fagan, the captain of Laird Sutherland's guard." The lass looked puzzled, and then Fagan added, "My laird doesnae speak English."
Her eyes widened and her jaw dropped. "I see. And what of Lady Sutherland?"
Fagan paused. "Lady Sutherland has passed away."
Ruairi eventually came to his senses when the pounding of his heart finally quieted. Although the woman was pleasing to the eye, she could keep her English ways to herself, as far as he was concerned. He was determined not to make this easy for her—as if he would roll over like a good dog because his liege demanded obedience. As soon as King James gave the Highland lairds the respect they deserved, perhaps he would feel differently. But for now, Ruairi certainly wasn't going to tell the lass that he understood every word she spoke.
Sourcebooks will give away one copy of My Highland Spy to a lucky commenter (US and Canada only, please.) England or Scotland?
Purchase His Highland Spy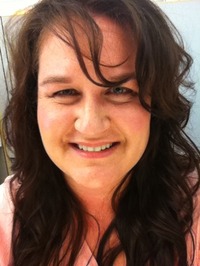 Victoria Roberts
writes sexy, award-winning Scottish historical romances about kilted heroes and warriors from the past. Prior to ever picking up a single romance novel, she penned her first young adult novella at 16 years old. Who knew her leather-studded motorcycle hero would trade in his ride and emerge as a kilt wearing Highlander wielding a broadsword? Victoria lives with her husband and their two beautiful children in western Pennsylvania.
Website
|
Facebook
|
GoodReads