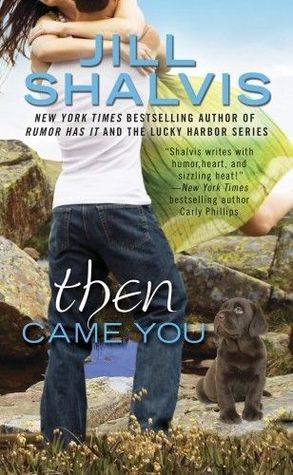 Series: Animal Magnetism #5
Genre: Contemporary Romance
Publisher: Berkley
Publication Date: 7/1/14
Format: ARC
Pages: 304
Source: Publisher
Rating: 4 stars


From the New York Times bestselling author of Rumor Has Itand the Lucky Harbor series comes the story of a woman whose world is turned upside down by one night's torrid fling...

Veterinary intern Emily can't believe she wound up in the small town of Sunshine, Idaho, instead of the Los Angeles clinic she had always imagined. Now she has to put her plans to move to L.A. on hold for a whole year while she fulfills the obligation of her vet school scholarship.

Then Wyatt, her gorgeous one-night stand from a Reno vet conference, introduces himself as her new boss. And Emily is just as drawn to his seductive looks and quiet strength as she was on that very steamy night. She soon learns that Wyatt isn't just a laid-back doctor, but a delicious alpha male tempting her away from her carefully laid-out plans...
My Review
Then Came You is the fifth installment in Jill Shalvis's Animal Magnetism series, and I have to say that I thoroughly enjoyed it. In it, we're back at the delightful Belle Haven veterinary clinic, where apparently being outrageously hot, witty and sexy is a prerequisite for all employees. I'm not much of an animal person anymore (due to allergies), but my kids are about to be proud parents of a duck and a chick (stealth FRIENDS reference, FTW!) and let me just say, if we had a clinic like Belle Haven, the duck and chick and I would be visiting on the regular.

Anyway. Besides the great setting, Then Came You comes complete with an adorably awkward set-up between lead characters Wyatt and Emily. Imagine you walk in to your first day on the job. Hot vets are everywhere, being all nice and charming and welcoming you into their work-home. You're so ready to begin your career, to put your time in so you can move on to a brighter future in gorgeous Los Angeles. Then it's time to meet the vet with whom you will be working closely over the coming year. Your eyes meet across the crowded room....only to notice that hunky vet is your one-night stand from a convention in Reno. That sound you heard is the record scratch of doom. What happens in Reno is supposed to stay in Reno, right? Or something like that.

And this little predicament is what drives Then Came You. Despite the lingering attraction, Wyatt and Emily know they should maintain a strictly professional relationship, keep their distance. That's not so easy when the one person you need to stay away from is the one person who sets your knickers on fire. Never mind the fact that Wyatt has deep-seeded abandonment issues and is living with his two volatile yet hilarious and badass sisters, and that Emily has absolutely no intentions of staying in Sunshine once her year is up. It's a perfectly impossible situation and I loved seeing these two work through the issues that hold them back, towards a future together.
It is said the course of true love never runs smoothly. That may be true, but Wyatt and Em's course was awkward and hilarious and flat-out sexy. (this happens to be my favorite course)

Then Came You is only the second Jill Shalvis book I've read so far, and I have to say there's something about her style that suits me so well. I think it's that she's nailed the perfect mixture of endearing characters and story that's full of both sexy and humorous moments. If you're looking for feel-good romance with a strong dose of sexy, look no further than Then Came You.

Favorite Quotes:

His eyes darkened a little bit, and she knew he was remembering the other things she'd touched that night.
And kissed...
Oh this was bad. Very, very bad. "We have to go back to being strangers," she said.
He just stared at her.
"We are strangers," she said.
"Yeah. Strangers who know what each other's O-face looks like --"
She covered his mouth but it was too late. And great, now she was sweating again. "We shouldn't know that," she said through her teeth, "except someone insisted on keeping the lights on!"
He smiled, wrapping his fingers around her wrist and pulled her hand from his mouth. "I like the visuals."
He was sitting there, still wearing his puppy and kitty tie. And those glasses that made her want to steam them up. The combination should've made him look utterly ridiculous, but it didn't. Instead, it gave the big, leanly muscled, sexy-as-hell guy an unexpected softness, and she wanted to kiss him. The kind of kiss where you tasted each other for a good long time, where you tried not to bite but maybe you bit a little anyway.
"You're staring at me," he said.
"Am not."
She could practically hear him smile. Good lord, she was out of control. He was over there being all Captain Platonic, and she wanted to rip that tie off and use it to bind him to her bed.
"I forgot to be quiet," Emily said some time later as she sat up on the couch, eyes wide, hair wild, cheeks rosy, her lips still wet and a little swollen. "Was I loud?"
Wyatt leaned over and kissed her worried mouth. "I don't know."
"How could you not know, you were right here."
He grinned. "Well, the first time, your legs were around my ears, so I couldn't hear."
The Animal Magnetism Series
(covers lead to GoodReads)
About Jill Shalvis