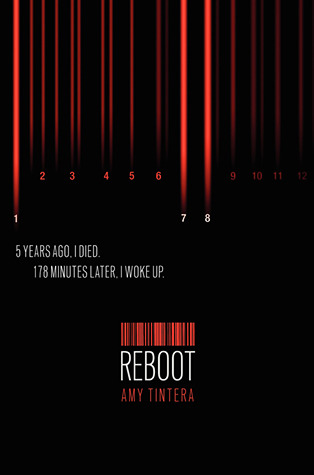 Series: Reboot #1
Genre: YA SciFi/Dystopian
Publisher: Harper Teen
Publication Date: 5/7/13
Format: Hardcover
Pages: 365
Source: Publisher
Rating: 5 stars
GoodReads
|
Amazon
|
B&N
Five years ago, Wren Connolly was shot three times in the chest. After 178 minutes she came back as a Reboot: stronger, faster, able to heal, and less emotional. The longer Reboots are dead, the less human they are when they return. Wren 178 is the deadliest Reboot in the Republic of Texas. Now seventeen years old, she serves as a soldier for HARC (Human Advancement and Repopulation Corporation).

Wren's favorite part of the job is training new Reboots, but her latest newbie is the worst she's ever seen. As a 22, Callum Reyes is practically human. His reflexes are too slow, he's always asking questions, and his ever-present smile is freaking her out. Yet there's something about him she can't ignore. When Callum refuses to follow an order, Wren is given one last chance to get him in line—or she'll have to eliminate him. Wren has never disobeyed before and knows if she does, she'll be eliminated, too. But she has also never felt as alive as she does around Callum.

The perfect soldier is done taking orders
Oh. M. Gee. I do apologize for the gushing that you are about to see, but I reaaaalllllllyyyyy am excited about this book! So...you know what that means?
*squee* *happy dance* *why did I wait so long to read this book?*
I have indeed had this a while, and don't make near enough time to read the physical books I have, and that is indeed a wrong I am trying to right...which is why I got down to reading this one finally. I, however, was not expecting to love
Reboot
so much.
We don't really get a whole lot of history in the beginning of what is going on with this dystopian world, and how we went from the USA to this world where seemingly only Texas has humans in it, and humans die only to "reboot" and come back to life because of a virus however many minutes later.
(Does that make them zombies? Living dead? They look like pretty little vampires, but they seem like zombies to me. You decide, and let me know!)
The blurb does a great job of setting things up, and the pace is seriously balls to the wall, hardcore, and thrilling so you do not miss not having a history. Never fear, you do get miniscule details along the way that fill in the holes thanks to Wren and Callum. (Seriously, non-stop action the WHOLE time!)
Wren, One Seventy Eight, is our narrator, and having taken 178 minutes to reboot, she is pretty emotionless and the least human. Then, she meets Callum, Twenty Two, who is the most human like guy she has ever met. Their unlikely friendship and pairing is just that, unlikely, but it brings into this book a really cool element of almost romance, and hope for this novel. For me
, Reboot
is the perfect Young Adult title in that there is a paranormal dystopian aspect, a little romance, friendship, coming of age, thrilling action, suspense, and oh-my-goodness are-they-or-aren't-they going to survive. I read it in under a day, and am very excited to shout my praises from the rooftops.
I did find out halfway through that this book does continue in book two, that is already out Thank God, because I am dying to read it...but again, never fear because this installment ends nicely and does not make me feel like throwing things (no cliffhanger). I want to tell you so much more about the other characters you meet, and how much I loved Callum and how much I grew to understand Wren...but I won't. Because, I give this my highest recommendation and would love for you to read it and experience it all for yourself!
Enjoy!
The Reboot Series
(covers lead to GoodReads page)

About the author:
Hi! I'm Amy Tintera, and I write novels for young adults. I grew up in Austin, Texas and graduated from Texas A&M University with a degree in journalism. After receiving a masters in film at Emerson College I moved to Los Angeles, where I promptly discovered I didn't enjoy working in the film industry, and went back to my first love, writing.
REBOOT and REBEL are published by HarperCollins/HarperTeen. Film rights have been optioned by Fox, and the books have sold in ten countries. I am represented by Emmanuelle Morgen at
Stonesong
.
Website | Twitter | Facebook | GoodReads