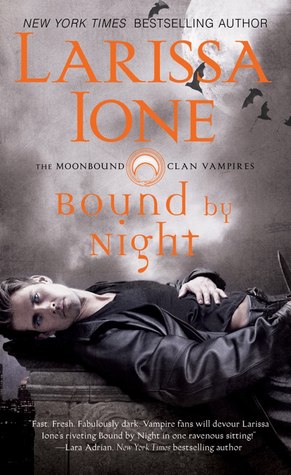 Series: MoonBound Clan Vampire #1
Genre: Paranormal Romance
Publisher: Pocket Books
Publication Date: 9/24/13
Format: Paperback
Pages: 400
Source: Publisher
Rating: 3.5 stars
GoodReads | Amazon | B&N


Larissa Ione's bestselling Demonica series has captivated fans with its sensual blend of dark passion and demonic fury. Now she takes you to another intoxicating world—where a dangerous clan of wild vampires rules the night...

A WOMAN OUT FOR BLOOD
Nicole Martin was only eight years old when the vampire slaves rose up in rebellion and killed her family. Now she devotes her life to finding a vaccine against vampirism, hoping to wipe out her memories—along with every bloodsucker on the planet. But there's one thing she cannot destroy: her searing, undeniable attraction for the one man she should hate and fear the most . . .

A VAMPIRE OUT FOR REVENGE
A member of the renegade vampire MoonBound Clan, Riker is haunted by demons of his own. When he recognizes Nicole and remembers how her family enslaved his loved ones, his heart burns for vengeance. But when he kidnaps Nicole and holds her in a secret lair, his mortal enemy becomes his soul obsession, his greatest temptation, and, perhaps, his only salvation—a hot-blooded lover who could heal him with her touch . . . or bury him forever.
My Thoughts
First Line
The vampires were behaving weird today.
(big understatement!)
And so begins my journey with Larissa Ione's
Bound by Night
, the first book in her
MoonBound Clan Vampire
series. I've been itching to try a new paranormal series, and found
Bound by Night
to be sexy, unique, and slightly scary.
-
Larissa Ione's mythology/world-building was very creative and read unique to me.
Like a lot of readers, I devoured tons of vampire-related books for a few years, and finally tired out when they began to all feel the same. Here, we have a vampire race based on a Native American legend, which I've personally not found before.
-
In addition to the history of the vampire race in general, we
also have a heavy history between humans and vampires.
Apparently, the vampires "came out" around eighty years prior, with the humans nearly taking them over twenty years after. When I say the humans took over, I mean the humans were horrific to the vampires. In the forty years since, the vampires have made some strides in gaining rights, but are still severely threatened in the present day. We readers learn this history along with heroine Nicole Martin, who only knew what her family presented to her.
-
What if you fell in love with your worst nightmare?
This is the question facing Riker and Nicole. This leading couple have a strained and complicated relationship that most book couples could only hope for. This isn't a case of having your feelings easily hurt, or simply looking for trouble. The issues between Riker and Nicole are huge. Such as: the fact she believes he killed his pregnant mate - her childhood nanny, her family's corporation has made a business and fortune off researching, terrorizing, brutalizing, and even enslaving vampires for decades. A practice Riker blames for killing his mate and unborn child. See? These are huge issues, ones that are virtually impossible to overcome right? Well, no, because....
-
Ione gives us a couple that can believably overcome all the obstacles between them.
I had no idea how Riker and Nicole could ever be together, given all that's between them. My gosh, I couldn't even see them being attracted to one another or even acting on it, but she sold it and she sold it completely. I loved them as a couple and if they can not be murdered by crazy rival vampires, or family, then I believe they can make a go of it.
-
The world of the MoonBound Clan Vampire series is not for kids, guys
. I've found that when I read Paranormal and Urban Fantasy, I want the world to be dark and dangerous. Ione doesn't play around. Her vampires aren't sweet and they aren't vegetarians. They are can be brutal and go half-crazed with blood lust and sexual lust. And speaking of lust, I loved how sensual these creatures were. I loved how the moon cycles got them all ramped up, and how sexy feeding could be. Good, good stuff.
-
With a good start cast and a big cast of secondary characters, this series has so much potential with future installments.
Clan leader Hunter's book is up next. He's knowledgeable in the oldest legends and customs of the world, and his story has been set up to be crazy intense. Myne, another vampire and close friend to Riker is another character whom I hope will receive a story.
So yeah.
Bound by Night
was excellent. It was sexy and intense and exactly what I was looking for.
Favorite Quotes
"Go fuck yourself."
Hunter, MoonBound clan's leader, leaned back in his chair and gave Riker an expectant look. "Go fuck yourself...?" He made a
come on
gesture with his fingers. "Finish the sentence." Riker rolled his eyes. "Go fuck yourself...
sir
."
Nodding his dark head in satisfaction, Hunter kicked his boots up onto the scarred oak conference table. "Better."
"It's true. You Os are lame. Too metallic-tasting. My favorite is B-positive. There's a spicy aftertaste I love." She frowned. " It's so rare, though."
"You need to be eating Asian people." Nicole checked on Grant's whereabouts-far across room, thank God. "Asians have the highest percentage of b-positive blood."
"Really?"[....]
"Um...you pretend I didn't say that?"
"Nope. I'm so taking a trip to Chinatown tomorrow."
Series: MoonBound Clan Vampire #2
Genre: Paranormal Romance
Publisher: Pocket Books
Publication Date: 9/30/13
Format: Paperback
Pages: 400
Source: Publisher
Rating: 3 stars
THE FUTURE OF HIS TRIBE

Leader of the vampire clan MoonBound, Hunter will do what he must to save his people from extinction—or worse, a torturous eternity as vampire slaves and subjects of human experimentation.To keep his enemies at bay, he has agreed to mate a rival clan leader's daughter in return for peace between the clans and an ally in the looming war with the humans.

THE LOVER OF HIS SOUL
But survival comes at a price. First, Hunter must break an ancient curse by successfully negotiating three deadly tests. Then he must resist the searing passions of the gorgeous vampire warrior he despises but is bound to mate. Will Hunter stay true to his word? Or will he risk everything for the woman he really loves: the vampire seductress's identical twin sister?
First Line
In a secret club blaring rock music and laughter, raised shot glasses brimming with whiskey clinked together like death knells.
As I mentioned in my review of
Bound by Night
, I was anxious to read clan leader Hunter's story. Given that he is burdened by life as a ruler, and that he's set to mate with a woman he despises, I expected a lot of angst on his part, and there was. I liked
Chained by Night
, but I've found that by the time I finished it, I was ready to be. I left the story feeling that I was okay with the story, really liked some moments, and in the end, it was a good enough read.
What I liked about
Chained by Night
was the forbidden relationship between Hunter and Aylin. It doesn't get much more complicated than falling for your intended mate's twin, right? Right. It doesn't matter that Hunter needs the mating to go off to keep peace among the vampire clans. And it doesn't matter that Aylin has been promised to another clan leader, no matter how brutal he's rumored to be. The two have fantastic chemistry, with a lot of passion and understanding between them. The heart wants what it wants, and no matter how much they fight it, Hunter's and Aylin's choose each other.
I also like the quest that truly brings Hunter and Aylin together, and the premise behind it. In an effort to save Hunter's future firstborn child, he and Aylin must complete several tasks set in place by the demon who created the vampires. Oh, and there's the pesky detail that the two have to be naked and feeding off one another to get in and out of that realm. Not at all convenient to putting these two together, huh?
That convenience leads me to the couple of issues I had with the book. The many conveniences that come their way. Maybe I'm being nitpicky, but the fact that whatever it is these two need just happens to be handy, or that they suddenly develop the ability, annoyed me. They need a way out? Oh! Aylin can create portals! Like I said, I'm nitpicky. There was also the fact that the bad guys - Aylin's father, her twin, and another leader, were all so "bad" that they came across as caricatures. I like my baddies to by sly and slick, truly chilling. But these are personal preferences.
So overall, this seems to have had a lukewarm tone, which, yeah, I guess that is exactly how I felt about Chained by Night. I liked the two main characters, still enjoy the world Ione has created, and I liked the passionate chemistry. I didn't love the obstacles, and how easily some were overcome, and the action sequences sometimes felt overwhelming. I am curious to see if clan member Myne gets a story. I have a feeling his will be very interesting.
Favorite Quote
He gazed up at the endlessly gray clouds and wondered if they'd fill the sky on the other side of the portal. "We do this."
"And what, exactly, is this?"
"Mutual feeding." Just the thought of Aylin's fangs in his throat again made him, instantly, painfully, hard.
Aylin blinked. "Why?"
"Because demons are assholes," he muttered.
New York Times and USA Today bestselling author Larissa Ione penned her first novel at the age of 13 and hasn't stopped writing since. She has been a U.S. Air Force meteorologist, an EMT, and a professional dog trainer, and you never know when one of those interests will pop into her novels.

She lives a nomadic existence with her U.S. Coast Guard husband and son, so her writing career has been a blessing -- a job that moves easily.

She writes dark paranormal romance for Grand Central Publishing (formerly Warner Books,) and contemporary romance for Red Sage and Samhain. Under the pen name Sydney Croft, she writes erotic action adventure romance with partner Stephanie Tyler.