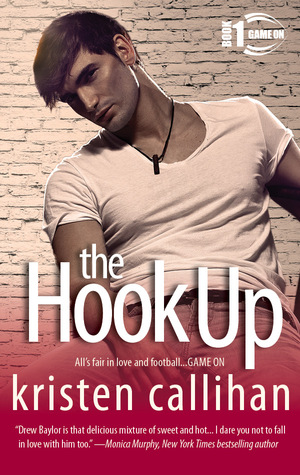 Series: Game On #1
Genre: Contemporary Romance
Publisher: Self-Pub
Publication Date: 9/8/15
GoodReads | Amazon
The rules: no kissing on the mouth, no staying the night, no telling anyone, and above all… No falling in love
Anna Jones just wants to finish college and figure out her life. Falling for star quarterback Drew Baylor is certainly not on her to do list. Confident and charming, he lives in the limelight and is way too gorgeous for his own good. If only she could ignore his heated stares and stop thinking about doing hot and dirty things with him. Easy right?
Too bad he's committed to making her break every rule…
Football has been good to Drew. It's given him recognition, two National Championships, and the Heisman. But what he really craves is sexy yet prickly Anna Jones. Her cutting humor and blatant disregard for his fame turns him on like nothing else. But there's one problem: she's shut him down. Completely.
That is until a chance encounter leads to the hottest sex of their lives, along with the possibility of something great. Unfortunately, Anna wants it to remain a hook up. Now it's up to Drew to tempt her with more: more sex, more satisfaction, more time with him. Until she's truly hooked. It's a good thing Drew knows all about winning.
All's fair in love and football…Game on
Inside the house is just as I feared. Packed, hot, and loud. Guys appear to make it their sole purpose to shout out to one another. Inane music is pulsing through the speakers and bouncing off the walls.
Eyes follow me as I walk by. I don't belong. They know it. I know it. Girls frown as if trying to figure out why I am here and who invited me, and guys take long looks at my boobs. I'm now cursing my choice of top. And Iris.
Iris, who darts like a minnow through the crowd in her quest to find Henry. The instant she does, he pulls her in and sticks his tongue down her throat. His hands grab her ass to haul her in closer.
Yeah. I don't have any desire to stand next to them now. My only refuge is to find a beer and a corner to nurse it in. Because of my three-inch boot heels, I hover at 5'10." High enough to see over most other girls' heads. High enough that when I move into another room, I instantly spot him. And he's looking directly at me.
Of course. I am now officially going to kill Iris.
I want to look away, but I can't. I never can when it comes to him. His mouth hangs open slightly, as if he's shocked to see me here, which makes two of us; I'm shocked to be here. But then, as if it dawns on him that it's really me and not a nightmare, his lips quirk up at the corners and a glint comes into his eyes.
I wonder if all my happy parts are somehow connected to his smile because they flare at that expression, going warm and tingly. Which annoys the hell out of me.
Then he moves, walking away from the group of people surrounding him without a backward glance.
Disabled as I am by my uncooperative body, I stand unmoving as he comes for me. His big body cuts through the crowd like a blade. God damn, but he looks fine, his long striding legs encased in worn and faded jeans that hug his thick thighs. His moss brown t-shirt clings to his chest like a love song, highlighting the breadth of his shoulders and the leanness of his waist.
In a room filled with boys, Drew is a man here. Bigger, stronger, and just more. In an odd way, he doesn't belong here either. But the difference is they want him to belong.
His eyes stay locked with mine the whole time. It's unnerving. And enough to make my toes curl in my beloved Vogs.
He stops just before me. Way too close for a casual acquaintance. Even with my added height, I have to tip my head back a little to meet his gaze.
"Anna Jones," he drawls, "fancy meeting you here." That he appears pleased makes my insides dip.
"Not by my own volition," I mutter.
His lopsided smile grows. "Who suckered you into coming?"
"Iris, my roommate and soon-to-be resident on the missing persons list."
A light laugh breaks from him, and his eyes warm. "I don't know… I'm kind of grateful to her."
"You can thank her when she stops sucking her boyfriend's face off. As for me, I'm leaving."
Baylor's brows snap together. "Now? You just got here."
"How do you know? I might have been here for hours."
He shifts his weight onto one leg, bringing him closer. "Jones, I knew the second you walked in the door."
"Bull." I say it reflexively.
But he grins. "I shit you not."
My skin is too tight, my flesh too warm now. "How is that even possible?"
Another small laugh leaves him. "Seriously?"
And then he does it. His gaze travels down to my chest, lingering there as his nostrils flare, before slowly trailing back up to my face. When my glare registers, he merely gives me a sheepish look as if to say he knows he's busted but isn't really sorry for it.
Not that I can totally blame him. My boobs are swelling over the edge of my top. I have the desperate urge to hike the cami up, but I resist and cross my arms under my breasts instead. The action lifts my cleavage higher. A dare. I think. I'm not sure what the hell I'm doing anymore.
Color tinges the high crests of his cheeks and those hot eyes glide back down. "Okay," he says thickly, "now I know you're messing with me." Somehow, he's now less than a foot away. The fan of his lashes casts shadows on his cheeks as he peers at me. "But I'm willing to be tortured."
Okay kids, we have two giveaways! First is the gift card giveaway. Second, two winners will receive a copy of The Hook Up (ebook). All you need to do to enter is leave a comment, letting us know what you think of that excerpt.
Kristen Callihan is an author because there is nothing else she'd rather do. She is a three-time RITA nominee, and winner of two RT Reviewer's Choice awards. Her novels have garnered starred reviews from Publisher's Weekly and the Library Journal, as well as being awarded top picks by many reviewers. Her debut book FIRELIGHT received RT Magazine's Seal of Excellence, was named a best book of the year by Library Journal, best book of Spring 2012 by Publisher's Weekly, and was named the best romance book of 2012 by ALA RUSA. When she is not writing, she is reading.
Website | Twitter | Facebook | GoodReads