In anticipation of the upcoming release, Jen Frederick is sharing an excerpt and giveaway from Taking Control. Good luck, and thanks for stopping by!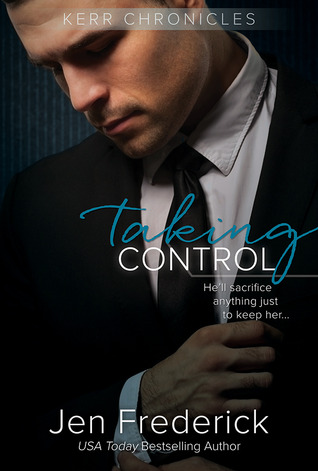 Series: Kerr Chronicles #2
Genre: Contemporary Romance
Publisher: Pear Tree, LLC
Publication Date: 9/8/14
GoodReads | Amazon
I thought I needed only one thing in my life--the money and power to crush one man. But the moment I laid eyes on Victoria Corielli, my thirst for revenge was replaced by my craving for her.
No rule would keep me away; no obstacle too large to overcome. Not her will, not our differing social positions, not my infamous past. When she lost everything, I helped her pick up the pieces. When she trusted me with everything, she sealed her fate.
I've convinced Victoria she can put her heart in my hands. Now I have to protect it--from her shady stepfather and my business rivals, from enemies known and hidden. I'll do anything to keep her. And I might have to prove it, because now Victoria''s risking more than her heart to be with me; she's risking her life.
"I want us to get married. Soon. Do you want a big wedding?"
"Married? I mean, I guess I thought you were serious but I figured…I don't know." Her voice trails off.
"That my proposal of marriage was somehow insincere? I've never wanted anything more. I just didn't want to pressure you because of all the emotional upheaval you're experiencing now." Rolling over so she can see me and judge the sincerity for herself, I declare, "I want you to be my wife. The mother of any children we have. My partner in life. I want that to happen now so that I can introduce you as Mrs. Ian Kerr."
Her eyes close for a moment and beneath the lids, silent tears leak out. Her words, though, are classic. "Maybe you should take my name. You can be Ian Corielli and I'll introduce you as Mr. Victoria Corielli."
"As long as it means you're mine in the eyes of the world, I'll be Mr. John Smith."
She wraps her arms around my neck and clings to me. This time the shudders I'm soothing are from maybe, possibly, hopefully joy for our future. "I'm okay with Victoria Kerr," she chokes out. "You better give me a big rock and lots of flowers since you're proposing to me while we're naked."
"I proposed to you when I first took you to the house on the Long Island Sound."
"You didn't propose. You said that you wanted me to be your wife and fill your big house with lots of little people."
"That's a proposal."
"It was a demand."
"It was a request couched as a demand."
Her body is shaking with laughter. "You've been in charge for too long. That was no request."
Pushing to my knees, I reach into the nightstand and retrieve the box I bought before Sophie died. Her eyes grow huge and her hands come up to the cover her mouth. I flip the box lid open, pluck the ring out and toss it aside.
Lifting her shaking hand in mine, I slide the ring down her finger.
"When I was fifteen I made a hundred different stupid vows. I'd avenge my mother. I'd rise to the top of Wall Street and smite everyone down. I'd crush Richard Howe beneath the sole of my boot. I'd win at everything. But I never wished for happiness because I didn't know what it was until you came into my life. How could I want something I didn't know was missing? Now, everything I've achieved pales in comparison to having you love me. When I say that you're my heart, my everything, those aren't just words. They are the only truth in my world. I'd give up money, revenge, success, as long as I could lie down next to you at night and wake up with your face beside mine.
There is no greater achievement in my life than having you fall in love with me and I recognize on some mysterious level that is pure luck. I need you to marry me and be my wife. I need you to be the mother of my children. I need you because without you I am nothing. I am a pile of bones and flesh filled with misery. You bring me to life. Love me, marry me, be with me in this life and into all the ones we live from this point ever after."
"Well, since you put it like that, I guess I must." She rises and kisses me. Our mouths sealing the promises we've made to another one another.
I make love to her again then, slowly. We barely move. I just slide in and we rock together and allow the strength of our emotions to carry us into the heaven.

Bestselling author Jen Frederick lives with her husband, child, and one rambunctious dog. She's been reading stories all her life but never imagined writing one of her own. Jen loves to hear from readers so drop her a line at
jensfrederick@gmail.com
.