I'm happy to bring you an excerpt and giveaway from Ruining Mr. Perfect by Marie Harte. I love this series and this installment. Thanks for stopping by, and good luck!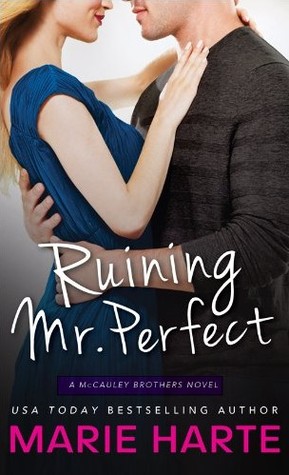 Series: The McCauley Brothers #3
Genre: Contemporary Romance
Publisher: Sourcebooks Casa
Publication Date: 10/7/14





GoodReads





It's Not Easy Being Right...


Vanessa Campbell is a CPA by day and a perfectionist by night. She's fit, successful...and decidedly lonely. She can't stop thinking about the youngest McCauley brother, Cameron. He's just like her: smart, attractive, and usually right—except when dealing with her.

...But Someone's Got To Do It.

Cameron McCauley likes Vanessa a little too well. She's a blond goddess with a razor-sharp tongue. She hates to be wrong, just like him. But she can hold a grudge and is stubborn to a fault—also like him.

A past misunderstanding has them rubbing each other the wrong way. Cam is dying to shake Vanessa up—get her to let loose. But if he succeeds, can his heart handle it?
"This is nice," he said and looked into her eyes. "Being with you."
"Um, yes." She felt her cheeks heat. Stupid. "It is."
His slow smile warmed her all over again. "So you want to tell me the rules now?"
"Rules?"
"Please. After you finished screaming my name—"
"I don't recall screaming your name."
"—and after I had my wicked way with you, reason returned. We're a lot alike, you know. Rational, intelligent, concerned about tomorrow. Always looking ahead."
That flattering comparison she could live with. "And?"
"And you're no doubt wondering what tonight meant in terms of our relationship."
His cool detachment irked her. "Oh?"
She smirked. "Uh-huh."
"I think we should try a few dates and see what happens."
"As in, we're dating."
"Isn't that what I just said?"
"Just you and me."
"Well, I sure the hell don't want to double with Flynn or Brody anytime soon." He grimaced. "I love the guys, but they can be such assholes."
"True." She worried her lower lip, then immediately stopped when she realized Abby did the same thing all the time when nervous. God forbid she take on her roommate's neuroses. "We enjoy each other's company, like the same foods, love to exercise, and we're far more intelligent than the people we live with."
"Exactly."
"Intelligence is important to me." She sounded like a babbling idiot, and the captivated look on his face made her feel even more moronic.
"Me too."
"So what if things don't work out? Not that I'm leaning toward anything long-term, but when Brody and Abby hit the wall, we didn't get along. You and I."
"Actually, we got along fine. You were the one with the bug up your ass. You were also in the wrong; you just refused to admit it."
"Excuse me—"
"But I forgive you."
"Forgive this." She shot him the finger.
Instead of volleying back an insult, he laughed, dragged her into his lap, and kissed her.
(covers lead to GoodReads page)