I'm very excited to bring you an exclusive excerpt from the newly released Shield of Winter, by Nalini Singh.
Series: Psy-Changeling #13
Publisher: Berkley
Publication Date: 6/3/14
GoodReads
Assassin. Soldier. Arrow. That is who Vasic is, who he will always be. His soul drenched in blood, his conscience heavy with the weight of all he's done, he exists in the shadows, far from the hope his people can almost touch—if only they do not first drown in the murderous insanity of a lethal contagion. To stop the wave of death, Vasic must complete the simplest and most difficult mission of his life.

For if the Psy race is to survive, the empaths must wake…

Having rebuilt her life after medical "treatment" that violated her mind and sought to stifle her abilities, Ivy should have run from the black-clad Arrow with eyes of winter frost. But Ivy Jane has never done what she should. Now, she'll fight for her people, and for this Arrow who stands as her living shield, yet believes he is beyond redemption. But as the world turns to screaming crimson, even Ivy's fierce will may not be enough to save Vasic from the cold darkness…
You know, she said telepathically, it's extremely frustrating to try to have a conversation with a man who can simply teleport away.
Hands on her hips when he didn't respond, she strode over to the open bathroom door—clearly her Arrow didn't appreciate her determination where he was concerned. Leaning against the doorjamb, she felt her breath leave her lungs in a pleasured rush at the blurry outline of his nude body behind the steamy glass of the shower enclosure.
It took serious effort to find words since her brain seemed to have forgotten the concept of language. "So"—she saw him freeze beyond the glass, his hands in his hair—"did the medics discover anything new about the infection?"
Lowering his hands, he said, "Ivy."
"Yes?" She didn't budge. "You were about to answer my question."
"I was about to ask you to leave."
"Sorry, I didn't hear you." Wickedness woke in her. "Where are you going to teleport naked?"
"I could go to my quarters in Arrow Central Command."
She stuck out her tongue at him. "That's cheating!"
Turning off the shower, Vasic slid open the shower door. Ivy was determined to stay . . . but lost her nerve at the last second. "Damn it." Twisting out of the door, she stood with her back against the wall beside it, her skin hot and breath short.
When he stepped out, a towel wrapped around his hips, she bit down on her lower lip. He was beautiful. All sleek muscle and strength, a finely honed blade of a man. Trickles of water from his hair trailed down his back, and she had to fight so hard not to reach out and touch. She wasn't sure he'd accept it. Not tonight. "You didn't dry your hair properly." It came out a husky whisper.
Turning toward her, he braced himself with his palms on either side of her head, his bare skin inches from her, the heat of him smashing against her…
Posted by arrangement with Berkley Books, a member of Penguin Group (USA), LLC, A Penguin Random House Company. Copyright © Nalini Singh, 2014.
Purchase Links
About the author: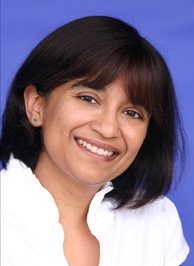 New York Times
bestselling author Nalini Singh is passionate about writing. Though she's traveled as far afield as the deserts of China, the Highlands of Scotland, and the temples of Japan, it is the journey of the imagination that fascinates her most. She's beyond delighted to be able to follower her dream as a writer.