We're less than a month away from the publication of the first book in the Maddox Brothers Series, BEAUTIFUL OBLIVION, and I'm so excited to share the love with you!
Many of you have probably read a first chapter excerpt in
HAPPENSTANCE
, but if you want even more Beautiful Oblivion, this week is going to be super fun for you because Atria Books is sponsoring an excerpt chain and giveaway JUST so you can get an extra sneak peek at Trent and Cami's story, and I have part of that excerpt right here.
First, take a look at Beautiful Oblivion...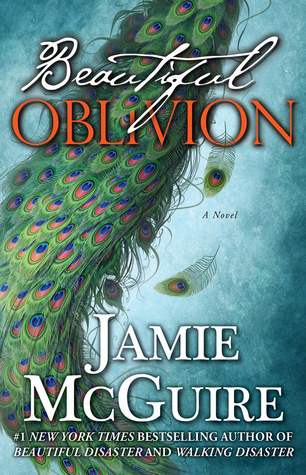 Series: Maddox Brothers #1
Genre: Contemp Romance
Publisher: Atria Books
Publication Date: 7/1/14
The

Beautiful Disaster

and

Walking Disaster

phenomenon continues in the first heart-pounding new adult romance in The Maddox Brothers series.
Fiercely independent Camille "Cami" Camlin gladly moved on from her childhood before it was over. She has held down a job since before she could drive, and moved into her own apartment after her freshman year of college. Now tending bar at The Red Door, Cami doesn't have time for much else besides work and classes, until a trip to see her boyfriend is cancelled, leaving her with a first weekend off in almost a year.
Trenton Maddox was the king of Eastern State University, dating co-eds before he even graduated high school. His friends wanted to be him, and women wanted to tame him, but after a tragic accident turned his world upside down, Trenton leaves campus to come to grips with the crushing guilt.
Eighteen months later, Trenton is living at home with his widower father, and works full-time at a local tattoo parlor to help with the bills. Just when he thinks his life is returning to normal, he notices Cami sitting alone at a table at The Red.
As the baby sister of four rowdy brothers, Cami believes she'll have no problem keeping her new friendship with Trenton Maddox strictly platonic. But when a Maddox boy falls in love, he loves forever—even if she is the only reason their already broken family could fall apart.
In the first installment of the Maddox Brothers books, readers can experience the rush of reading

Beautiful Disaster

for the first time, all over again.
Suddenly the door blew open, and Trenton walked back in, kicking the door shut behind him. He was holding two large styrofoam cups with straws sticking out the top.
"I hope you like Cherry Coke, baby doll, or we can't be friends." He placed the drinks beside each plate, and then sat down. He looked up at me. "Well? Are you going to sit down or what?"
Trenton shoveled the first piece of food into his mouth, and, after some
hesitation, I did the same. It was like a little ball of paradise on my tongue, and once I started, the food on my plate just sort of disappeared.
Trenton held up a
Spaceballs
DVD. "I know you said you were studying, so if you can't, you can't, but I borrowed this from Thomas the last time he was in town, and I still haven't watched it."
"Spaceballs?"
I asked, pushing up one of my eyebrows. I'd seen it with T.J. a million times. It was kind of our thing. I wasn't watching it with Trenton.
"No. It was really nice of you to bring over lunch, but I have to study."
He shrugged. "I can help."
"I have a boyfriend."
Don't forget you can pre-order BEAUTIFUL OBLIVION at your favorite bookstore – links below and I'll have my review of BEAUTIFUL OBLIVION up soon!
PAPERBACK ORDER LINKS
eBook ORDER LINKS
a Rafflecopter giveaway
About Jamie McGuire
New York Times best selling author Jamie McGuire has penned the Providence series and contemporary romance Beautiful Disaster. She lives in Oklahoma with her husband and three children. She is an RT(R), a graduate of Autry and Oklahoma Northern College, and a full time writer.