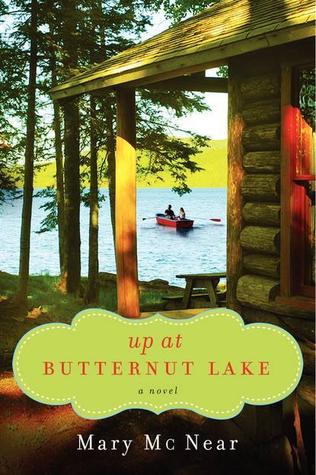 Series: The Butternut Lake Trilogy #1
Genre: Contemporary Fiction/Romance
Series: The Butternut Lake Trilogy #1
Genre: Contemporary Fiction/Romance
Publisher: William Morrow
Publication Date: 4/8/14
Format: Paperback
Pages: 384
Source: Publisher
Rating: 5 stars



In the spirit of Kristin Hannah and Susan Wiggs, comes this debut novel-the first in an unforgettable new series by Mary McNear
It's been ten years since Allie Beckett crossed the threshold of her family cabin at Butternut Lake, Minnesota. Now, newly widowed after the death of her husband in Afghanistan, she's returned with her five-year-old son.

There, she reconnects with the friends she had in childhood-best girlfriend Jax, now married with three kids and one on the way, and Caroline, owner of the local coffee shop. What Allie doesn't count on is a newcomer to Butternut Lake, Walker Ford.
Up at Butternut Lake follows these four unforgettable characters across a single summer as they struggle with love, loss, and what it means to take risks, confront fears, and embrace life, in all of its excitement and unpredictability.

Allie Beckett could never have imagined, when she ran away from her old life, that she was running into a whole new life, up at the lake….
My Review
Trying to review Up at Butternut Lake is overwhelming to me. It's a big, gorgeous story full of vibrant, engaging characters, all of whom won me over with their kindness and their earnestness. Within the first chapter, I knew this would be a five-star read for me, and I immediately put book two on my to-read list. This allowed me to simply settle in and enjoy the ride. And that I did.
I'm not exactly sure how to categorize Up at Butternut Lake, possibly Women's Fic/Romance? In my eyes, this is a story of healing, finding the courage to love again. It's a journey. This installment centers around Allie Beckett, a single mom who lost her husband two years prior in Afghanistan. Seeking privacy, to be away from the sympathy, the prying eyes and questions, she moves with her son to her family's cabin on Butternut Lake in northern Minnesota. Once there, Allie isn't sure she's made the right decision, but decides to see it through. She quickly reconnects with former acquaintances Caroline and Jax. Allie also makes a connection she'd rather not, with new neighbor Walker Ford.
Walker and Allie's relationship is strained from the beginning. Neither wants a neighbor, or to be friends. But they share an immediate, strong connection that can only be described as unavoidable. Allie wants to protect her son, put him first, but it's clear she has her own reasons to avoid Walker, namely her heart. There's a guilt to moving on after the loss of a spouse that appears to be indescribable. It's not something I've experienced, but have witnessed. Allie must come to terms with her loss, and whether she's willing to risk her heart again. Walker is a troubled man in his own right. With a failed marriage and a loss he's never truly confronted, Walker isn't exactly a sure bet for Allie. But he is a good man. Despite his prickliness and blunt nature, I found Walker to be a great leading man.
Friends Caroline and Jax are both interesting characters in their own rights, with fantastic stories to tell. We do get a nice secondary story with both; Jax's was particularly wonderful. Caroline will be getting a story in book two, Butternut Summer. I would love to see a more in-depth take on Jax's story, as well. Her storyline had me tearing up and cringing at the same time. Nothing traumatic, just very emotionally driven and suspenseful. We also have an interesting side character in Frankie, the ex-con who cooks in Caroline's diner.
I still feel as if I've not done Up at Butternut Creek its due. Once I began the story, I flew through the pages and didn't even take notes mentally. I was consumed by these characters and their stories. I wanted to canoe across Butternut Lake, eat a slice of pie at Pearl's, watch the storm from Walker's window. And sometimes, I felt as if I truly did.
I will be anxiously awaiting the next installment in the series, Butternut Summer.

Favorite Quotes
You've met your match, Walker, he thought, turning onto the road and making a conscious effort to slow down. You've finally found someone who's more obsessed with her independence, and her privacy, than you are. You two should be perfect neighbors. But if that was the case, he wondered, why was he suddenly in such a lousy mood.
He was so hungry for her, he wanted her so much, that it took all his self-control to hold back now, to not do what he wanted to do her. He wanted to run his fingers through her hair. He wanted to pull her, hard, against him, and feel every inch of her body digging into his. He wanted to kiss her neck, the hollow at the base of her neck, and her almost-bare shoulders. But he didn't do any of those things.
This kiss, though, like most kisses, wouldn't be contained.
The Butternut Lake Trilogy
(covers lead to GoodReads page)

About Mary McNear
Mary McNear is the author of the Butternut Lake series published by HarperCollins. The first book in the series, Up at Butternut Lake, is now available.

Mary McNear lives in San Francisco with her husband, two teenage children, and a high-strung minuscule white dog named Macaroon. She writes her novels at a local doughnut shop, where she sips Diet Pepsi, observes the hubbub of neighborhood life, and tries to resist the constant temptation of freshly made doughnuts. She bases her novels on a lifetime of summers spent in a small town on a lake in the northern Midwest.