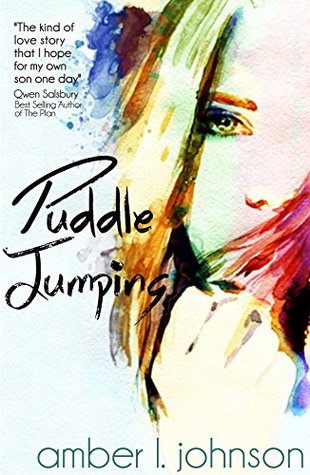 Series: Standalone
Series: Standalone
Genre: Contemporary Romance
Publisher: Self-Pub
Publication Date: 6/29/14
Format: ebook
Pages: 121
Source: Purchase
Rating: 5 stars
When it comes to love there's no such thing as conventional.

Everyone thinks Colton Neely is special.

Lilly Evans just thinks he's fascinating.

Once friends when they were younger, their bond is cut short due to her accident prone nature and they go their separate ways. Years later, they meet again and Lilly learns that there is something special about the boy she once knew, but she has no idea what it all means. And she's not sure if she's ready to find out.

When he walks through the corridor of her school the first day of her senior year, she knows that it's time to get to know the real Colton Neely. The more she learns, the deeper she falls.

Their friendship grows into love, even as Colton does not express it in words. But one decision threatens to break down the world that Lilly has tried so hard to integrate into and she must figure out if the relationship can survive if they are apart.
Jessica's Review
"Life is meant to be lived, and if you're offered the chance to experience exceptional things with an extraordinary person, then there isn't one reason in the world to say no.
Our love is no different than anyone else's. It's ours and that's all that matters.
It's a true story of a girl falling for a boy.
Nothing more.
Nothing less."


Have you ever read a book that totally takes your breath away? A book that makes you wish that the characters in the story were real, and that you can physically hug them? A story that starts tugging at your heart even from the very first few sentences:
"It begins with a boy.
It begins with a boy and it ends with a boy, but what story doesn't?
This is my story. Our story.
It's about an incredible guy who changed my mind about everything I thought I knew. And maybe I helped change his world, too."


I don't know why my eyes started misting up from the very beginning. It could be because it felt so ominous. Like something was so final. I think because I was going into a book that was going to make me really, truly FEEL for these characters. I had this inkling that I was going to read something special, something beautiful.
And I did.
"Love, for those lucky enough to experience it, is extraordinary."
I absolutely fell in love with Lilly (lead female character) and Colton (lead male). Lilly was spunky, feisty, witty. She had typical insecurities and doubts, of course, but never once, did she annoy or irk me. Actually, she sort of reminds me a bit of myself when I was her age. She's even accident prone and klutzy like me. I thought she was an amazing heroine. She had this beautiful heart that wanted to be filled and overflow with love. Love for her best friend. Love for her family, but mostly, love for Colton.


"I need to ask you something."
"Yes?"
"I have to ask. Why do you like me?"
He shifted away from me then, his brows pulled together making him look even cuter, if that was possible. "I don't understand the question." His hands were squeezing mine tightly as he looked down at them. "You're my Lilly. You've always been my Lilly."
Colton. Oh you glorious boy. Colton was in one word: extraordinary. Just like Lilly fell in love with him, so did I. He truly was a beautiful boy, an old soul, a canvas of reds and blues and yellows and all colors of the rainbow. It was difficult for him to express his inner feelings with words. However, through his paintings and art, he was able to say so much more than what his brain would let him. His relationship with Lilly was the purest of the pure. He didn't just love her outer beauty, he loved her inner beauty. He knew this even from the very first moment they met when they were children. She was always it for him. Lilly was his best friend, his light, his calm. (Sidenote: I have always had this "thing", this "big deal", about handholding. In my eyes, I feel like the act of handholding is just as intimate as kissing. Holding someone's hand is a sort of protection, a sort of claiming as well. I mention this because there is section that is brought up where Lilly and Colton start holding hands and it makes Lilly giddy with happiness.)


"Though, once he started holding my hand, he never really stopped. Our palms were like ultra-strength magnets that just slapped together every time we were in each other's vicinity. We held hands. Hard. Always. Up and down the halls of the school. After school. In the car. Hands and fingers.
Always touching."


"I've read this was Van Gogh's way of portraying hope. Hope from escaping his hell on earth; being trapped in his body as it began to recede. An escape from his mind as he stayed in an asylum. Those clouds…they're representations of freedom. Heaven. A cure for his illness."
His fingers rose to point.
"The brush strokes are impeccable. The majority of the print is from memories of his childhood."
I just stood as still as possible, taking in the meaning behind each of his words.
"And what would you paint from your childhood?" I asked, simply a whisper, forgetting about being put-out from dinner, and now completely entranced by him.
He looked over at me with that smile. Slight. Meaningful.
"You."


I think I may have highlighted half of this book. I would devour page after page. There were so many parts that I stopped at because my eyes would mist or because I was overwhelmed with emotion. I've mentioned before that it is very hard for me to tear up, much less cry, from reading a book. There are very few books that have accomplished this. PUDDLE JUMPING was definitely one of those books that I was emotionally invested in. (I'm surprised I'm not more of a blubbering idiot) I wanted to hop into my Kindle and be right there next to Lilly and Colton. I wanted to physically be there in the hallways and see how their relationship blossomed. I also had moments where I wanted to throw my Kindle.
"I don't believe there's such a thing as conventional love. Love is bending. Love is breaking. Love is constantly learning about the other person until you go crazy because it will never be perfect, but there's no fault in trying."
Remember when I mentioned it felt a bit ominous? I would read Lilly's storytelling and at one point, I thought she was recapping a "what if" story. You know those: what if I had done things differently, what if I had more time to be with him etc. Yeah. Those. It was getting towards the end, even the epilogue, and I thought I was going to have a heart attack. I real one! I didn't obviously. *phew* I thought it was veering towards the Nicholas Sparks book/movie road. (Funny enough, one was mentioned in the book.) Boy, oh boy, did the author take me for a loop-dee-loop ride. *phew again* But you know what? I would take that loop-dee-loop ride all over again. I loved the story THAT much. I would recommend this book to everyone, even your teenage daughters AND sons. It's a story everyone can read and enjoy.

"I'll see you later," I said. And then before I could stop myself, I leaned over and gave him one more kiss. "Email me when you get up. We can talk. Like you do with Talia."
He smiled against my cheek and kissed me again. "Talking with you would be much more enjoyable than talking with Talia, Lilly." His eyes scanned the floor by my feet. "She's paint by number; you're a watercolor."
Things like that, moments like those, how do you explain to other people that no one else in the world can make you feel this way?


"Did you know your name means 'beautiful'?" My mouth must have fallen open because my tongue instantly went dry and I couldn't form words. He just looked back down at the plant and whispered, "Beautiful grace. I looked it up."
He'd inadvertently told me I was beautiful.
And I kind of believed him.


"The one thing I wish I could explain to people is he's not what they think he is. Words he's been branded with could never describe him. He's not special. He's extraordinary. To me.
And I feel like I am, too, when I'm with him."
P.S. You may have noticed I didn't write too much about the actual story. I normally don't write too much about the story as it is. But this time, I wanted to be even more vague because I wanted you, the reader, to find out why Colton is so extraordinary and why Lilly loving him is so beautiful. (I took out a favorite quote because it would give too much away.) When I say it's the purest of the pure relationships, you'll understand why when you read the book.


About Amber L Johnson