Summer is over, but just because the temperature is dropping, doesn't mean we have to stop reading scorching hot books! Frisky Fall Saturdays is our new weekly post created by Th
e Autumn Review
, The Bookish Babe,
Hackaroo's Reviews
, and
Sim-Sational-Books
. Feel free to join in. (let us know so we can add a link to your post) As those leaves start piling up in the yard, ignore them and pick up a sexy book!
**The books featured on FRISKY FALL SATURDAYS are for adults. If you are under 18 years of age, or do not like smexy books, please stop here. **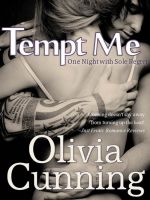 Series: One Night with Sole Regret #2
Publisher: Olivia Cunning
Publication Date: Sept 7, 2012
Format: ebook
Pages:
Source: Personal purchase
For the five sexy rock gods of Sole Regret, finding love is easy, keeping it is hard.

One more night…

For almost a year, Madison has been Adam's hook-up every time his band, Sole Regret, tours through Dallas. But in spite of the way he sets her body ablaze with passion, the occasional night of rock-her-world sex isn't enough anymore. She needs a commitment and knows that won't fit into Adam's rock-star lifestyle. Madison will take one more hot-and-heavy night with the sexy musician before she cuts all ties with him for good. Even if she must break her own heart to do it.

To tempt him…

Life isn't all bright lights and fan adulation for the lead guitarist for Sole Regret. Madison has seen Adam at his worst and still managed to bring out the best in him. Her cleverly concealed naughty side also brings out the beast in him. He's never met a more tempting woman in his life.

Madison has no problem tempting Adam into her bed, but can she tempt his heart into taking a chance on love?

Tempt Me is the second novella in Olivia Cunning's Sole Regret series. This 32,500 word erotic romance novella contains explicit sexual situations, including some rough backdoor lovin', hair-pulling, spanking, and whole lotta dirty talk.

Adam Taylor was first introduced to us in
Try Me
, the first book in the series. I think I can speak for a lot of readers when I say that I was instantly taken with this quiet, broody rocker. Thankfully Olivia Cunning didn't make her readers wait too long to find the man beneath the rocker exterior. Adam was a surprise. His character has a sad past and a shaky yet very hopeful future. A past that makes his present relationship with Madison make sense. Madison is a cool chick. She has given Adam so much support in the time she's known him. She has been willing to be Adam's girl whenever he's in town, but her heart wants more. It's time to make a move or make a getaway and Madison is willing to put her relationship with Adam on the line, to satisfy her heart.
Once again, Olivia Cunning, or OC as my close friends and I call her, has brought the hardcore sexy. I can't even explain to you how much I love her books. I started out reading the full-length
Sinners on Tour
novels, and was ecstatic when she began writing her
One Night with Sole Regret
series of novellas. What I like about these novellas is the fact they can be easily and quickly devoured. They provide a tasty little "afternoon delight", if you will. *wink* Because really, we're all busy ladies and sometimes, we need our books to give it to us hard and give it to us fast. Am I right? Adam and Madison's sexcapades (I know that's a lame word but I like it.) are bit less kinky than Cunning's other rockers, but still so steamy that you'll have hot flashes. The scenes are very imaginative and so well-written that I almost feel that I'm there. *sigh*
Tempt Me
was such a great story. I loved Adam, Madison, and the short but very dramatic turns in their relationship. Though
Tempt Me
is short, it doesn't feel incomplete. I was totally satisfied, but dying for more. I'll definitely be stalking her site until Shade's (he's an ass, but so sexy) story,
Take Me
, is released.
Favorite Quote:
"Madison was sure that Adam had everything she could possibly need pounding within his muscular chest. She had no hope of getting what she really wanted from him, though settling for what he kept in his pants wasn't too great of a hardship."
(ebook, 11%)
"After the concert, he'd take her to bed, hold her naked body against his for as long as he liked, take her gently, tell her he loved her. A thousand times. A thousand ways. Tell her. Show her. Love her."
(ebook, 42%)
You can purchase Tempt Me at:
Amazon
| Barnes & Noble |
Smashwords