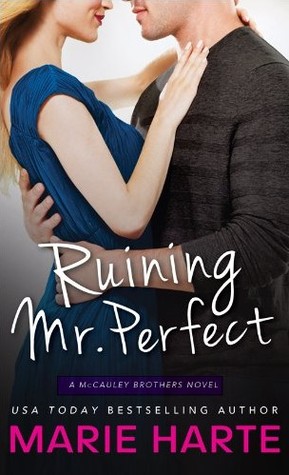 Series: The McCauley Brothers #3
Genre: Contemporary Romance
Publisher: Sourcebooks Casa
Publication Date: 10/7/14
Format: ARC
Pages: 368
Source: Publisher
Rating: 4.5 stars




GoodReads

| Amazon | Barnes & Noble



It's Not Easy Being Right...


Vanessa Campbell is a CPA by day and a perfectionist by night. She's fit, successful...and decidedly lonely. She can't stop thinking about the youngest McCauley brother, Cameron. He's just like her: smart, attractive, and usually right—except when dealing with her.

...But Someone's Got To Do It.

Cameron McCauley likes Vanessa a little too well. She's a blond goddess with a razor-sharp tongue. She hates to be wrong, just like him. But she can hold a grudge and is stubborn to a fault—also like him.

A past misunderstanding has them rubbing each other the wrong way. Cam is dying to shake Vanessa up—get her to let loose. But if he succeeds, can his heart handle it?
Opening Lines
"Hello?" Cam knocked as he opened the door. "Yo, Mike, you here?"
1. This story has been building since the first McCauley Brothers book. Ruining Mr. Perfect is the perfectly antagonistic-friends-to-lovers story between Cam McCauley and Vanessa Campbell. What makes this fun is that Cam and Vanessa aren't opposites, driving one another crazy - they're very much alike. They work in the same field, have the same view on food and health, organization, cleanliness, you name it.
2. Buuuuut.... Cam and Vanessa are so much alike that they can drive each other crazy, particularly when it comes to being right and coming out on top in any argument or discussion. Fun, right? It is, trust me. Now, Cam is definitely the more flexible member of this relationship, and Vanessa does push that need to be right to the limits. But Vanessa didn't have the parents Cam did; parents who exhibited love and affection and taught by example. So Cam gets to help Vanessa learn the fun way to love.
3. Cam McCauley is pretty much the perfect guy. I feel like I say this about all the guys in the series, and though Cam is the least my type, he was probably the least boneheaded guy of the bunch. Being that he gets Vanessa so well, he knows exactly the right way to treat her. He knows what to expect of her, how to be what she needs, can be strong enough to keep her from trouncing him when she gets on a tear, but gentle enough to bring out her sweet side. Plus, Cam is so gone for Vanessa, which makes me melt, to be honest. I love that while he waits to tell her how much he cares -for fear of scaring her off- that Cam never lies to himself. And in the meantime, while he's winning her heart, he's taking care of everything else...
He wanted to devour her, but he didn't.
She'd
kissed
him
. This was her show. "You tell me what to do, and I'll do it." He nodded. "Anything you want. It's yours."
4. While this is the Cam and Vanessa show, we also get a very surprising secondary story in James and Beth McCauley, Cam's parents. There were hints in book two that something was amiss in this marriage. In this installment, James and Beth's issues come to light. These issues weren't uncommon issues at this stage in a marriage, and they were examined so wonderfully. Believe me, I've bookmarked many passages in preparation for the years ahead. The parents of MCs generally have marriages that are characterized on the farthest ends of the spectrum, usually an awful caricature or so sugary-sweet it's off-putting. To have parents in their mid-to-late 50s who are portrayed as real people with real issues, was pretty great.
5. Once again, we have the fabulous McCauley men, in all their ball-busting glory! I love any scene with these guys together, but when you have them circled around a table, playing poker, drinking beer, and giving each other hell, that's my idea of a good time. Then add in the scheming, manipulative, hilarious Colin -a six-year-old!- and we're golden.
6. Okay, so the last book in the McCauley Brother series is What to Do with a Bad Boy. This is Mike McCauley's book and I can't wait!!! Mike is the oldest brother, single father to Colin who lost his high school sweetheart six years prior. Mike's lady is going to be Del, a tattooed, tough-ass mechanic and she's HOT. These two are way too similar for their own good. They've been circling each other for two books now (well, he's been circling her, she's been scowling), and when they finally connect, it's going to be awesome. Weeee!
Favorite Quotes
"Well, I sure the hell don't want to double with Flynn and Brody anytime soon." He grimaced. "I love the guys, but they can be such assholes."
"True." She worried her lower lip, then immediately stopped when she realized Abby did the same thing all the time when nervous. God forbid she take on her roommate's neuroses. "We enjoy each other's company, like the same foods, love to exercise, and we're far more intelligent than the people we live with."
"Exactly."
Cam sighed. "I can't imagine life without her."
"Oh boy. I knew this was coming." Brody rubbed his hands together with glee. "Today's the twenty-third, right?"
"Shit." Flynn dug in his pocket and handed Brody a few bills.
Then Mike swore and handed Brody a twenty.
"What the hell?" Cam stared.
"We bet on when you'd admit you loved her. It was obvious from the day you moved in." Mike shook his head. "Only took you fourteen months."
The McCauley Brothers Series
(covers lead to GoodReads page)