Series: Bad Boys of the Highlands #1
Genre: Historical Romance
Publisher: Sourcebooks Casa
Publication Date: 9/4/12
Format: ebook
Pages: 323
Source: Purchase
GoodReads | Amazon | B&N
She's On Her Way to Safety
It's a sign of Lady Rosalia Armstrong's desperation that she's seeking refuge in a place as rugged and challenging as the Scottish Highlands. She doesn't care about hardship and discomfort, if only she can become master of her own life. Laird Ciaran MacGregor, however, is completely beyond her control...
He Redefines Dangerous...
Ciaran MacGregor knows it's perilous to get embroiled with a fiery Lowland lass, especially one as headstrong as Rosalia. Having made a rash promise to escort her all the way to Glengarry, now he's stuck with her, even though she challenges his legendary prowess at every opportunity. When temptation reaches its peak, he'll be ready to show her how he really is...on and off the battlefield.
First Line
Sometimes being a Highland laird was a royal pain in the arse.
Short and Tweet...
A fun and slightly steamy historical set in early-17th century Scotland. Comes with many of the hallmarks of a fun HR: a laird bound by duty, a lady running from a distasteful marriage, thrown together by accident, held together by more. I didn't fully buy into Ciaran's reasons for hesitance in a marriage (an old oath to his father regarding the youngest brother), but in the end, I had a lot of fun with
Temptation in a Kilt.
Especially when the kilt, or what was under it, came into play!
Rating:
3.5 stars
Favorite Quotes
Seeing she was not going to relent, he bent closer, placing his lips so close to her ear that he was sure she could feel his breath. "The only reason I had discomfort was because I saw your bare, creamy bottom in front of my eyes. Ye are beautiful and ye almost unmanned me, lass." Ciaran kissed her lightly on her cheek before returning to his blanket.
Ciaran broke the silence and spoke quietly. "She means naught to me."
A tear fell down her cheek and she wiped it away. "It doesnae matter--truly," she whispered.
He reached out and gently brushed Rosalia's arms. When she closed her eyes to avoid his probing gaze, he raised her chin with his finger. He did not speak until she opened her eyes. "It matters to me," he said solemnly.
(covers lead to GoodReads pages)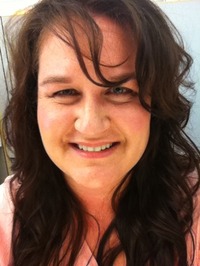 Victoria Roberts
writes sexy, award-winning Scottish historical romances about kilted heroes and warriors from the past. Prior to ever picking up a single romance novel, she penned her first young adult novella at 16 years old. Who knew her leather-studded motorcycle hero would trade in his ride and emerge as a kilt wearing Highlander wielding a broadsword? Victoria lives with her husband and their two beautiful children in western Pennsylvania.
Website
|
Facebook
|
GoodReads