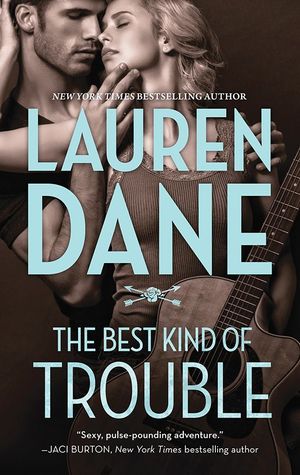 Series: The Hurley Boys #1
Series: The Hurley Boys #1
Series: The Hurley Boys #1
Genre: Contemporary Romance
Publisher: Harlequin
Publication Date: 8/26/14
Format: eARC
Pages: 384
Source: Publisher
Rating: 3 stars
She has complete control… and he's determined to take it away
A librarian in the small town of Hood River, Natalie Clayton's world is very nearly perfect. After a turbulent childhood and her once-wild ways, life is now under control. But trouble has a way of turning up unexpectedly—especially in the tall, charismatically sexy form of Paddy Hurley….
And Paddy is the kind of trouble that Natalie has a taste for.
Even after years of the rock and roll lifestyle, Paddy never forgot the two wickedly hot weeks he once shared with Natalie. Now he wants more… even if it means tempting Natalie and her iron-grip control. But there's a fine line between well-behaved and misbehaved—and the only compromise is between the sheets!
As a fan of Dane's, I do not relish writing a non-glowing review. I'm a fan of her Brown Family series; her novella All That Remains is a, ummm, memorable (ie dirty, dirty) piece of work that remains a personal favorite. Maybe it's too-high expectations, maybe I'm hard to please right now, but honestly, The Best Kind of Trouble was just...fine.


It was a good book, but I didn't feel especially wowed by the characters or their story. We get a second chance romance between a rockstar Paddy and librarian Natalie, now both living in his hometown. The conflict is fairly low, given that the two split on good terms. Add in the fact Paddy decides he wants to get back with Natalie the instant he sees her, his family loves her, and they are good friends who truly enjoy being together and this is pretty much a no-brainer. The only source of tension is Natalie's past with an addict father and enabling family. This wisely influences her decisions about her life, but also gives her pause over Paddy's rockstar lifestyle. Really though, he was fairly tame, and it sometimes seemed that she was forcing the conflict. Regardless, I liked them as a couple, and had no belief that they wouldn't end together.


As a sidenote: we have a librarian heroine, which is great! But, and maybe this is just me being irritable, it felt like every time the library came up, or that Natalie was a librarian, someone had to reinforce how imporant they are to the community. I'm not disputing that, I take my kids several times per week, but it felt heavy-handed./rant


The Best Kind of Trouble had plentiful sexy times, lots of good dirty talk and deeds to back it up. We also get a lot of sequel bait from Paddy's brother Ezra and Nat's best friend Tuesday, and I'm looking forward to their book, Broken Open.



Favorite Quotes



A new challenge was always fun. Especially when it concerned a pretty blonde with long legs and a smile that invited a man to sin and not repent.
"Patrick?"
"Yes, gorgeous?"
"I'm in love with you." She swallowed hard but kept going, because she needed to say it, and she'd even practiced in front of the mirror after talking to Tuesday about it for over an hour the night before. "You're a miracle in my life and I want to hear you sing and play music. Not only because you're good at it, and you are, but because it's important to you and I want to share it."

The Hurley Boys Series
(covers lead to GoodReads pages)

About Lauren Dane